One Knitter; Two Labels
5/24/19, 5:08 PM
By: Julie Rockefeller
Memorial Day weekend has arrived, marking the beginning of the 2019 fair and market season. From now until the end of September, I will be offering my finished goods for sale in various local venues, just as I have done for the past several years.
This season when you visit my space you see that I am now selling under two labels: Jules Wrenne and Kortright Handworks@La Basse Cour. I expect I will be asked more than once to explain the difference between one basket and the other.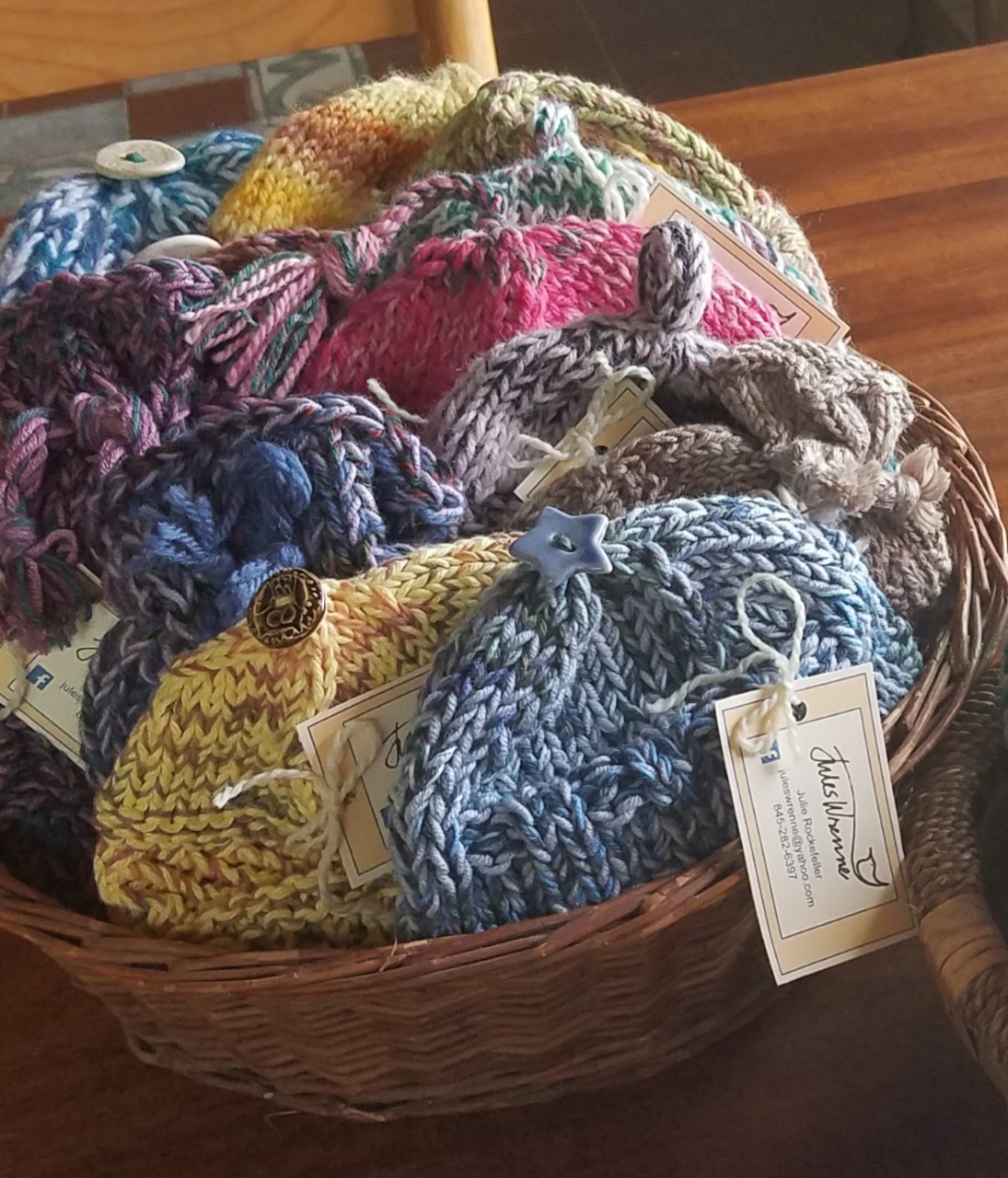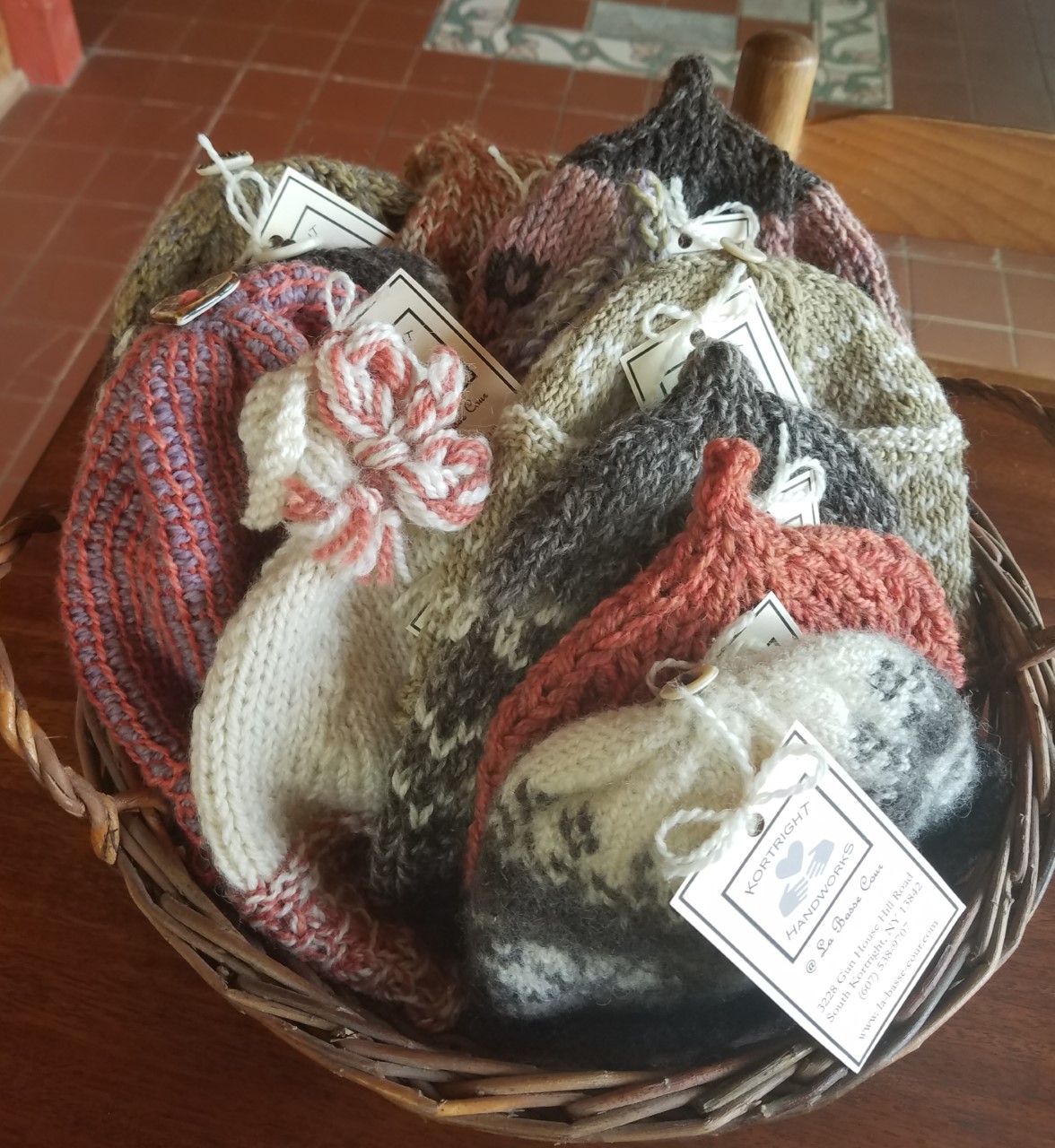 The answer is engendered in the question I am most often asked at fairs and markets: "Where do you get your yarn?"
Since 2011, when I began knitting as "Jules Wrenne", the answer has been convoluted and not the answer I wanted to give. What I most wanted to say was that the yarn was all natural and locally sourced, but until last year (2018) that was almost never true.
It is important to me that my work not be so expensive that people cannot afford to buy it for their families, that it not cost so much that people are reluctant to wear it every day. In fact, at one point I had the tagline "Everyday Knitting" printed on my cards, and it had a two-fold meaning: Knitting is part of my everyday living practice, and the goods I make are not to be saved for special occasions - they are durable goods, intended for every day use.
It wasn't until I partnered with Diane Frances of La Basse Cour that I found a way to give the answer I most wanted to give. Now I can say, with tremendous satisfaction, "The yarn is made from the wool of sheep that live on a farm right up that road. And you can visit them if you like." I love that answer so much.
The process from field to fiber to finished good has many steps: the animal is fed and cared for, sheared once or twice a year; the fleece is skirted and picked by hand and delivered to (and picked up from) Battenkill Fibers in Greenwich NY, where it is scoured and carded and combed and spun and plied and put up into skeins; those skeins are hand washed by us once more, and finally put up into hanks and labeled for sale.
The sheep at Diane and Larry's farm are Romneys and we now offer their wool for sale in 3 natural colors of yarn: white, dark, and oatmeal. You will find 100 gram skeins of 2-ply DK weight for sale at my table this season. $24 a skein, plus tax. Seems a bargain, doesn't it? $24 for 240 yards of something so labor-intensive to produce?
We have given our new joint enterprise the name "Kortright Handworks@La Basse Cour" and only the finished goods produced entirely with our yarns bear that label. Some of those items have more colors than the three basic white, dark, and heather. Those yarns have been hand dyed in my kitchen, using the white yarn and natural dye stuffs. Last year I ordered natural dyes by mail, but this year (and going forward) we are dyeing exclusively with materials that we cultivate and/or collect -- from field, forest, garden, or kitchen -- ourselves. To this point we have not sold any of the hand dyed yarn, which involves several more layers of work, but that is our hope one day, to produce natural colors in quantities sufficient to sell. One day in the not to distant future I will master hand spinning, and the story of where I get my yarn will be even more satisfying.
So what's in the other basket, then? Where does the yarn come from that I use to make the items bearing the Jules Wrenne label?
In past years the answer was a real hodgepodge -- people gave me yarn, I bought yarn at yard sales and thrift shops and flea markets, I went to big discount stores and bought on clearance -- all in the pursuit of reducing my materials cost so that what I made could be sold affordably. I often used low-cost acrylic yarns, always combining them with natural fibers in an effort to improve the look and feel of my finished goods, and to make them breathe better and wear longer.
Today the goods in the Jules Wrenne basket are all natural fibers. People still give me yarn, and I still look for bargains, but I am no longer using acrylic at all, even if it is offered to me for free. The yarns used for these items are natural fibers, as I said, but they are mass produced by large companies and the colors are typically achieved with synthetic dyes. 100 grams of this type of wool can often be purchased for under $10. They come in all colors of the rainbow and the dye lots are huge and fairly consistent from one lot to another.
The skill and time to knit is the same, regardless of the materials used, and the items in both baskets are of equal durability. The difference in price between the items in each basket is a result of methods and practices used to produce the yarn.
For products in the Jules Wrenne basket, the answer to "Where do you get your yarn?" is probably different for each item, and all I can really say is where I bought the yarn, if I even remember, or share the information provided on the label as to place of origin. For products in the Korthright Handworks@La Basse Cour basket, the answer is the same for all the items.
Being one knitter with two labels allows me to offer my customers a wide range of colors and textures while gaining experience as a producer of locally sourced, all natural yarns: the best of both worlds, for now.