"Pride Goeth Before Destruction, and a Haughty Spirit Before a Fall"
12/3/18, 10:50 AM
By: Julie Rockefeller
So does Proverbs 16:18 instruct us to be humble, to be mindful how easy it is to get carried away with ourselves. One step at a time, the author reminds us, even when we believe we are sure of the way.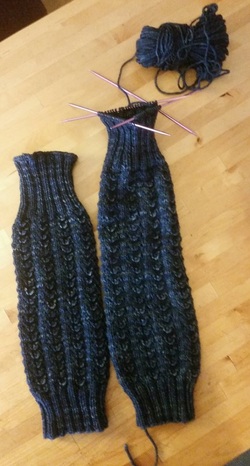 Nothing that goes wrong with a knitting project can rightly be referred to as "destruction", but overconfidence can lead to costly mistakes, as this photo attests.
I am making a pair of legwarmers for a friend. The pattern is simple but elegant, the yarn is beautiful in color and feel. I have been enjoying the work, most of which has been accomplished while riding in subway cars.
And that, Dear Reader, is at the heart of my downfall.
When I finished Legwarmer #1, I decided to leave it at home rather than take it with me as I traveled. I had memorized the pattern, so why carry something I didn't need? I cast on Legwarmer #2 and worked happily onward.
Looking at the two side by side, you might think I simply got carried away and knit too may repeats of the pattern. I wish that were the case, because then all I would have to do is rip back several rows and re-knit the top ribbing.
But No.
The mistake is far worse, requiring me to rip all the way back to the bottom ribbing and knit the whole body again.
The pattern has is a 4 row repeat: 3 rows of plain knitting, 1 lacy row. Those 4 rows are repeated 20 times. Easy Peasy. Inexplicably, for Legwarmer #2 I knit 4 plain rows between each lacy row. The number of repeats in each legwarmer is the same 20, but the second one is significantly larger because it has 20 extra rows distributed evenly along its length.
As Charlie Brown might say, "AAUGH!"
There are many Golden Rules in knitting, one of which I completely ignored because of my "haughty spirit". As a result, I didn't notice my mistake (which I had repeated perfectly 20 times) until the very end when I couldn't remember how many rows of ribbing I had worked at the top of Legwarmer #1 and returned to my workroom to compare with the first legwarmer.
So now I will have the pleasure of knitting a third legwarmer and one of these 2 will disappear, remembered only by me, and hopefully by you. Perhaps my good work wasted will serve to save us both from future folly.
The rule that I ignored is a corollary to the pithy carpentry caution: Measure twice; cut once. So here it is, plainly spoken: When making a pair of anything, ALWAYS, ALWAYS keep the two together and compare one against the other often as you work. Nothing complicated about that, right?
It's only common sense.
*SIGH*.