Weaving 101
1/23/20, 2:11 PM
By: Julie Rockefeller
In July, Kortright Handworks @ La Basse Cour added a 16" Ashford SampleIt rigid heddle loom to its inventory of fiber arts equipment. We bought the loom from CeCe's Wool and Farm Store (an Ashford distributor), ordering it ahead and making the purchase during Jefferson Historical Society's annual Textile Day event in The Maple Museum.
Not only did CeCe Tkaczyk bring the loom to the event pre-assembled and waxed, but she and Barbara Gallagher conducted an impromptu demonstration and sent me home with my first scarf already in progress. The two of them set me up to feel confident on the first try. I couldn't have asked for a better beginning to my weaving career.
Our textile studio was already well equipped with looms in a variety of sizes and types, all in good operating condition, so why add a rigid heddle loom?
Primarily: portability. Lightweight and durable with few moving parts, this loom can leave the studio without being disassembled or requiring much space in a vehicle. It is ideal for demonstrating basic weaving principles and terminology. For example, this June we intend to lead a community weaving project at The Michael Kudish Natural History Preserve during its annual Arts 4 All festival. The Samplelt is loom gives us a simple, interactive way to take our studio on the road and to share our love of fiber arts with members of the public who haven't yet made their way to the farm.
This small loom allowed us to learn how our yarns lend themselves to weaving without a large commitment of time and materials. We had knitted and crocheted with our yarns, but not tested them on a loom. Samples are useful for weavers to know what to expect if they decide to work with your yarns.
We also wanted another product line for the Kortright Handworks label. Weaving is significantly faster than knitting by hand and produces a different type of fabric. The SampleIt can produce scarves and shawls up to 16" wide, table runners and mats, as well as fabric by the yard for sewing projects. It is also suitable for tapestry weaving, and for making decorative woven trims and belts. Beads can be easily incorporated... all of which sounds like fun to me.
Ashford makes rigid heddle looms in several widths. 16" seemed best for us because it can be used comfortably without a stand. I weave with the loom in my lap, held fast by leaning it against the edge of a table. The rigid heddle needs to be lifted manually, using two hands, to change the shed, and two hands are required for beating. 16" is about the width between my shoulders, so this is comfortable for me. At 24" or 32", getting a consistent beat would be more challenging from an ergonomic standpoint. For wider fabrics we will use one of the other looms in the studio's collection, one that is more automated, though on a human scale.
So we purchased the loom and got some basic instruction. Then what?
I came home and finished the scarf we had started on Textile Day. I used the booklet that came with the loom to try some other weaving techniques, to learn how to remove the piece from the loom, and how to wet finish it so that the fibers would "bloom". I saw that there was shrinkage when the fabric was released from tension and washed in hot water.
That scarf was wonky, to say the least, with wavy edges and unintentional floats in abundance. It alternated between being markedly warp-faced and markedly weft-faced. By the end, though,I understood how the loom was intended to work, and felt confident that we had made a good investment.
CeCe had recommended a book by Syne Mitchell called, Inventive Weaving on a Little Loom, which my local indie DIY bookstore, Creative Corner Books, happily had in stock, so I bought it. I also ordered a second reed and a pick up stick from CeCe's online store.
I warped the next piece wider and was more intentional in designing it. I used several of our hand dyed yarns for the warp and our natural brown and oatmeal in broad bands for the weft. I hem stitched both ends and hand twisted the fringe. The resulting scarf was much nicer than the first, and I began to develop some consistency in my weaving motions. It was still kind of wonky, but better. I was gaining confidence.
That Friday I took both these pieces to the Hobart Farmers Market to display along with our array of hand knitted finished goods and Romney yarns available for sale. I knew very well that I was a novice, but I felt fine about letting customers see how I was progressing through the learning curve. I did not expect anyone to ask me about buying those scarves, but they did, even though I pointed out the flaws and demurred. Not only that, but a longtime customer asked whether I would make six scarves for her to give as family Christmas gifts. Never wanting to pass up a challenge, I took the order and figured that it would serve as motivation to improve enough in the months ahead so that I would feel good about those future scarves wearing the Kortright Handworks label.
By then it was high summer and every plant that we use in dyeing was ready for harvest or collection, so that work became my focus, along with knitting inventory for markets and fairs. I did some weaving, but kept putting the order for holiday scarves on the back burner as I experimented with new techniques. KH@LBC went to the Delaware County Fair and did a weaving demonstration in the Cornell Cooperative Extension Building, which was well received.
I filled knitting commissions and worked on getting fleece ready to go to Battenkill Fiber Mill to be spun into more yarn, we hosted several events in The Carriage House, and then, seemingly in the blink of an eye, it was November, and I knew I had to become single minded about creating these six scarves.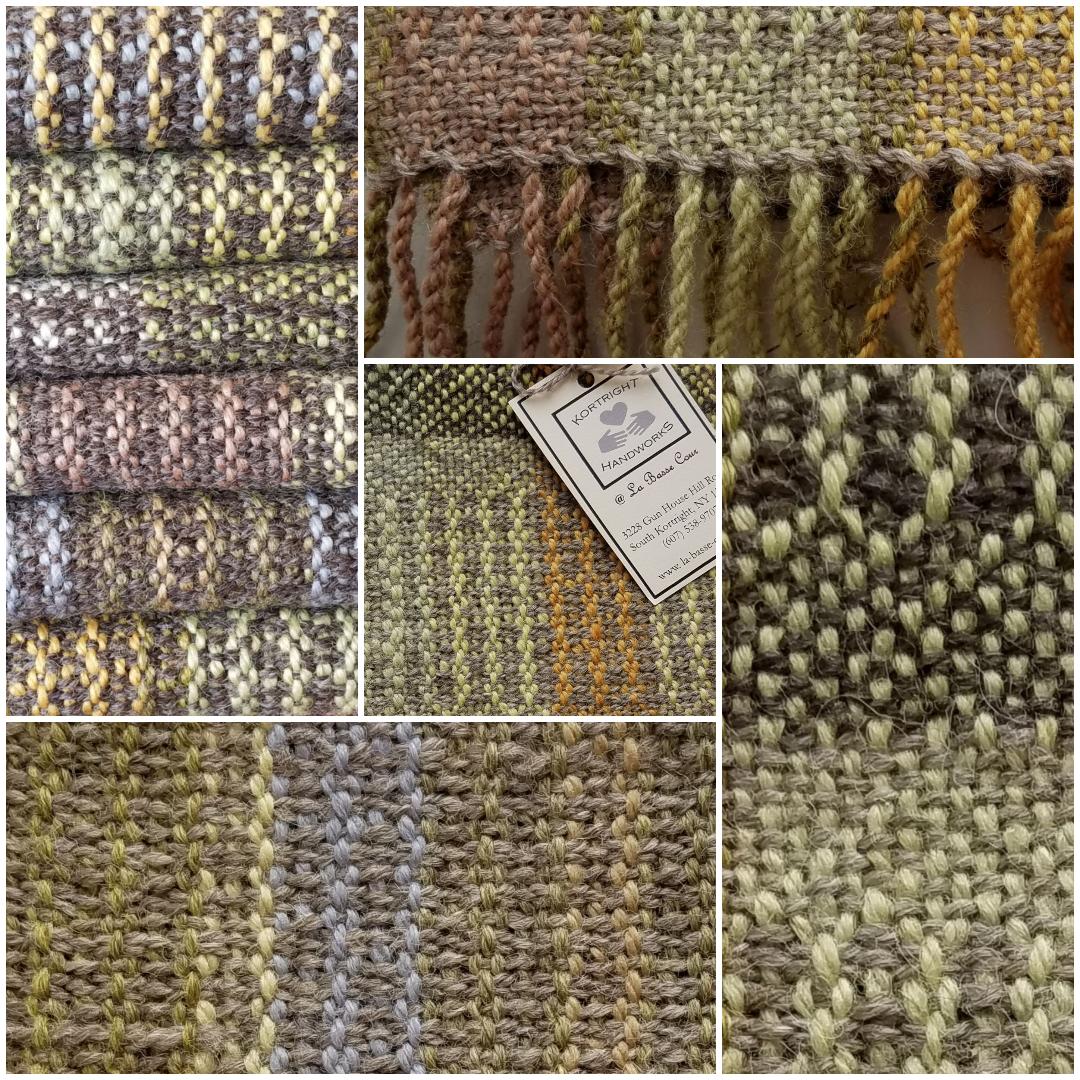 What followed could be called "production weaving", I guess. The loom stayed set up on the dining table all the time, and as soon as one scarf came off the loom, I warped the next. Fortunately my customer had faith and did not ask whether I was going to finish on time. Instead, she sent me the address where she would be spending the holidays, offering that I could send them directly on, if I "would rather". I mailed the scarves on December 18th and they arrived on time, thank goodness.Those who received the scarves are well pleased, plus the customer has now ordered one for herself. All's well that ends well. Again, Thank Goodness.
Here is what I gained from this experience:
My loom seems well broken in now, and I love how it feels in my hands. What this actually means, though, I think, is that I am broken in now. I don't feel like I am fumbling around as much when I work and have become calmer, smoother, and more sure. The loom is happier, I imagine, to be in more certain hands.
I learned that I don't want to invest in a fringe twister. I enjoy this finishing step, and the fine twisting motions are good exercise for my arthritic thumbs and index fingers.
I now know exactly the time and materials required to make a scarf that size. This is important because previously I had no idea how to price this work for sale. I can use what I learned about these scarves and confidently apply it to future projects.
I had my hunch confirmed, that the rigid heddle loom would a good intermediate step for me as I move toward weaving on the shaft (harness) looms in the studio. It is a valuable tool for studying weave structures, and for experimenting with design principles. I learn better when I progress from basic to complex, and I had been feeling that I needed to be more grounded in the mechanics of weaving before sitting down to work on one of the more sophisticated machines. (In others words, some would say, the little SampleIt is like a "gateway drug", opening the path to the development of a weaving addiction -- and this may indeed be true, we'll just have to see.)
Finally, I once again had my devotion to fiber arts renewed, and once again felt the warmth that comes from working with our yarns. This warmth is a sense of rightness, a sense of being connected, grounded, and centered.
I feel this warmth all the way through the process, beginning with picking the shorn fleece up from the barn floor with it still warm from the animal's body heat, and ending with writing out the Kortright Handworks label to attach to each finished good, listing the fiber content, the plants used for dyeing, and the care instructions.
But really it's a much larger process than that, even, and the warmth extends to seeing the fiber animals standing in the field or in the barn, to nurturing (or observing) the plants as they grow, to knowing the humans who do the work of tending them (farmer, vet, shearer), and the humans that work in the spinning mill. And also to the water and the sun and the soil, to the Earth as it moves on its axis and orbit and travels through the universe.
When I work with our yarns, I feel that I am in the right place doing the right work. And that I am truly connected to everything else. I feel blessed and grateful. I feel Peace.